KINGSMAN 2
DIRECTOR : Matthew Vaughn
PRODUCTION : Marv Films
PRODUCTION : TSG Entertainment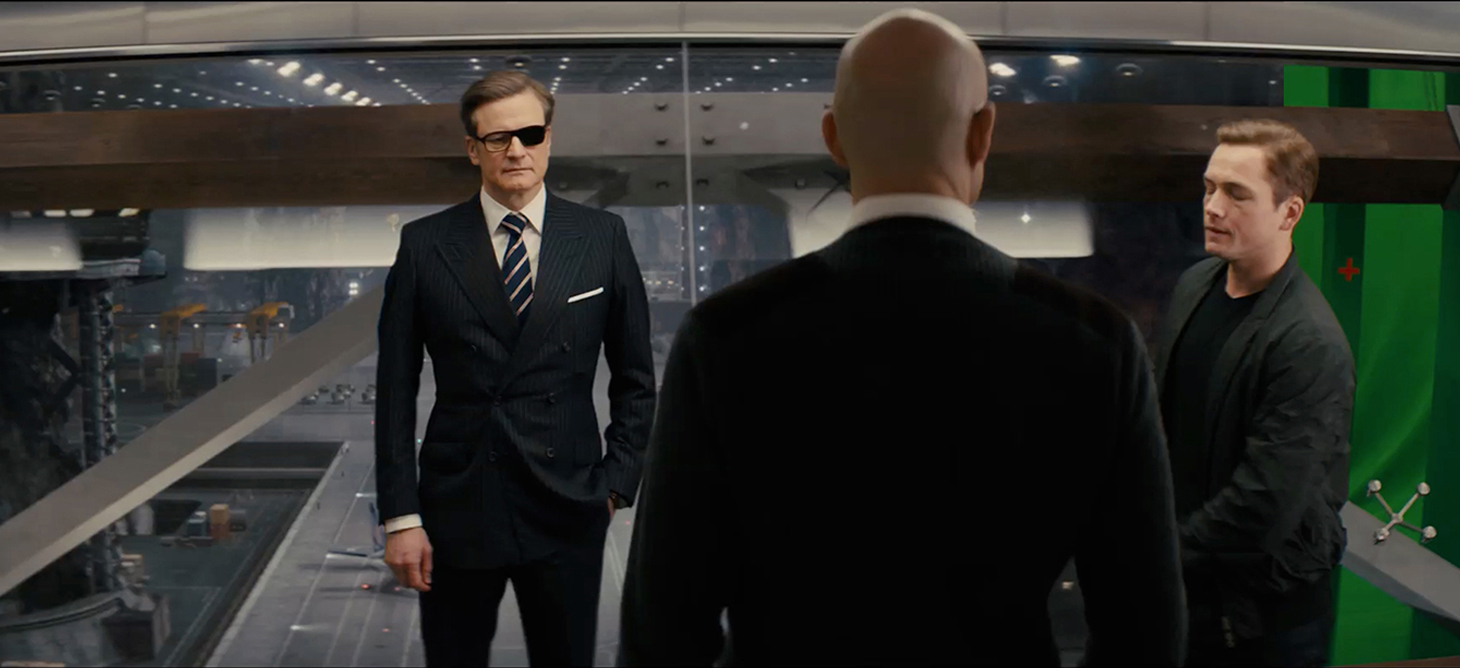 Production notes
Blue rash (66 shots)
In the movie, the first symptom of a character's contamination is the blue rash that starts spreading on their skin. Actors wore practical makeup in most cases, except for the shots in which we had to show the rash expanding or receding: numeric makeup was then the only option. In order to create this effect, BUF developed an algorithm inspired by the way plants grow. That way, the veins would appear through a texture whose progression follows a realistic pattern. The next step was to virtually reproduce each actor's face and hands, using either 3D scans or pictures. The resulting 3D model was then rotoscoped in each shot to apply our numeric makeup over it. At that point, the main challenge was to determine the rash intensity -which had to be both legible and believable at all times. For the recovery shots, our process was the exact opposite: the actors were filmed wearing makeup, which we therefore had to erase.
Statesman's underground base (34 shots)
The main virtual set BUF was entrusted with was the Statesman's base, a colossal underground hangar that we see from a corridor perched 60 meters above the ground.
A practical version of the hallway had been built, which was a 20 meters long module surrounded by green screens. Based on this live action set, BUF extended the corridor in 3D. From this hallway, we can thus observe the vast hangar in which all the Statesman' weapons and vehicles are stored. Seeing as it is supposed to measure about 800 square meters, we had to fill it with lots of elements: buildings, helicopters, cars, large mineral columns, gigantic doors, elevators, etc. Choosing to build a CG asset rather than a matte painting proved to be a lot of work, as it required modeling and texturing, but it enabled us to completely control the lighting and to readjust the hallway's height as we saw fit. More importantly, it guaranteed our set's coherency all throughout the scene, be it in terms of measures, scale or light.
Synapse effect (12 shots)
This is by far our most creative piece of work. In this sequence, Harry overcomes his amnesia and finds his way back to his past self. Matthew Vaughn wanted the butterflies drawings that cover Colin Firth's cell to be the trigger of an hallucination, which suddenly brings back his lost memories. Our first step was to put together a sort of visual effects bank, with various proposals for a "butterflies- induced" transition. Next, we tried to incorporate them into the edited scene, always offering a few alternatives for each shot. Once the effect design had been determined, we began modeling and texturing about fifteen butterflies
-half of which were photo-realistic, while the others were three-dimensional drawings. We then proceeded to animate and integrate them in the shots.
Poppy's TV broadcast (17 shots)
Here, Poppy explains how the blue rash works using four guinea-pigs at different stages of contamination, each locked inside an individual transparent cell. At first they are hidden behind opaque glass, which progressively turns transparent as the demonstration moves forward. The boxes were actually shot with transparent glass, that BUF was in charge of making opaque all while adding the TV broadcast graphics. Over time, this sequence changed quite a bit to follow editorial variations, and the disease evolution was revised. For example, one of the patients was originally simply shaking before it was decided that she should be dancing around in a trance instead. Another sick person was supposed to die on live television, slowly freezing after a few convulsions. Matthew Vaughn however decided that his death had to be more spectacular, in order to dramatize what was at stake and make the need for an antidote even more urgent. We were thus asked to make his eyes burst, before a massive brain hemorrhage finishes him off -a last minute request that reminded us of our work on Kingsman 1, with the explosive death of Sweden's prime minister.
Ginger's lab (9 shots)
Ginger's Lab is a set that initially consisted of three rooms. Out of those, only two were put back together for some of the scene re-shoot, and BUF was tasked with recreating the third one behind a large glass door. As we only ever saw it from outside, we created a rough 3D model that we textured using rushes from the first shooting.
Various transitions
BUF had to imagine cool transitions for a few single shots.
Nano tracker:
In this shot, Eggsy inserts a nano tracker inside Clara's vagina.For the first part of the shot, we stabilized the camera but also Eggsy's hand, as it travels down Clara's body towards her crotch. We also covered the tip of his middle finger with a numeric condom, which is supposed to hold the tracker. For the end of the scene, we recreated a three-dimensional space to control the camera move as it goes through the fabric of her underwear. Both the nano tracker and the endoscopic environment were full CG. For the last part of the shot, we created a transition in which the pulsating light of the nano bot turns into a GPS signal, first shown as a macro close-up on the LED screen in Ginger's lab.
Drones:
Here, we go from a computer screen to an aerial shot, with Poppy's drones carrying antidotes towards Manhattan. On the screen, we can see a planisphere on which every one of Poppy's bases is pinpointed with a drone logo. Those graphics then become real drones flying over the city. BUF modeled the CG drone based on a design supplied by production. We also recreated the New York bay by stitching together different photographs (taken from a helicopter), in order to control the camera move in that environment. The swarm choreography was quite a tricky thing to realize, since we had to respect a very tight editorial timing. For the first frames, the 3D drones had to perfectly match with their 2D representation on the map before taking off. Then, halfway through the shot, we had to show a few of them passing very close to the camera, to make sure the vials cases and Poppy's logo would be readable. Finally, they had to be seen flying away towards Manhattan, with the Statue of Liberty in the frame.
Royal family's castle in Sweden:
For this shot, we imagined a transition to go from Angel's tattoo to the Swedish Royal family's castle. The camera starts by getting closer to the "golden circle" tattoo on Angel's chest which, through a fade, turns out to be the reflection of the moon's halo on a lake. A swan then swims across it, creates ripples in the water before the camera pans up to reveal the castle. The original castle was filmed in Austria, but we made those images three-dimensional so as to mimic a boom shot with parallax. The swan was taken from a different plate altogether.
Whiskey bottle:
Here, the camera moves towards a Statesman whiskey bottle stored in the White House. Upon getting closer, we discover a tiny microphone on the bottle tag through which we go, only to land on a very macro close-up of a surveillance screen at the Statesman's headquarters. BUF had to model the tray with the alcohol bottles, so as to be able to extend the original camera move until we reach a macro view of the CG microphone.
Various effects
Integration of monitors and TV screens content (22 shots)
Dry ice addition on Tequila in his cryo-chamber (5 shot)
Replacement of the MetLife logo with the Statesman's (1 shot)
Various restore / green screen comps (18 shots)